I'm Sandrine, and I've been living off-grid since 2014.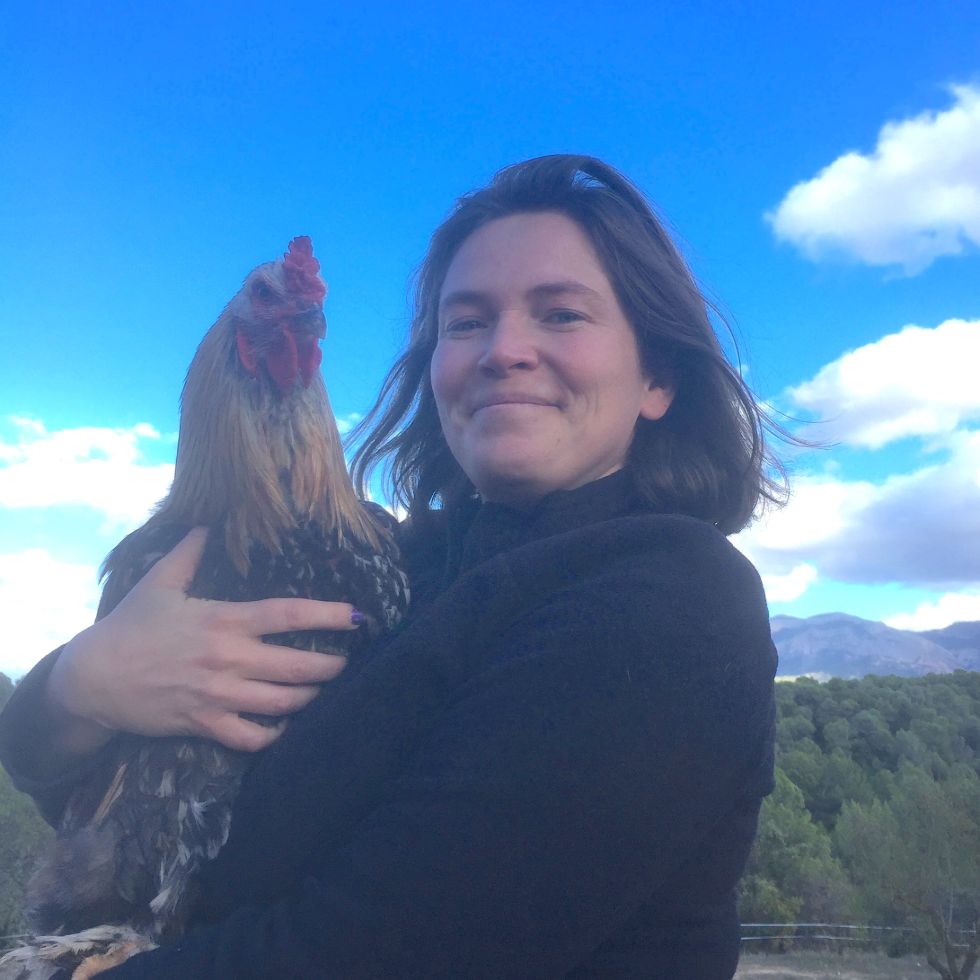 My husband and I were living a "standard" city life in Amsterdam: he worked in corporate, I had just started my own business. Our life was all about work, family, fun nights out, city trips, the occasional meetup with friends. But at the end of the day, something was always missing; we felt stuck living among so many other humans, with so few "real" human connections.
We wanted a change: we wanted more space (both physically and mentally), more freedom, and most importantly: more time for things that we feel are important in life.
In 2014, we moved to a very non-standard life in Aragon, Spain. Hubby now spends his days tinkering with things, building and rebuilding, or making olive oil; I still work full-time (the perk of having an online business!) but after hours, I get to relax with a drink, enjoying the peace and quiet and the best view in the world.
When I'm not helping small entrepreneurs with their digital marketing strategy, you can either find me somewhere on the property (in the garden, in the chicken coop, or taking a walk with the alpacas, dogs and/or cat) – or I'd be in the kitchen, baking bread or tweaking my latest cake recipe.
My favorite? Brownie cheesecake with raspberries.
What's yours? 
Why do you want to live off-grid?
About Sunny Simple Living
I started blogging about our journey towards more self-sufficiency and living off the grid on simplelivingspain.com. As time progressed, I realised I wanted to help more people get access to better information – all the knowledge you'd need to start a sunny simple life of your own, so you can make the choices that fit your beliefs and aspirations – and follow your own path.
Sunny Simple Living is my passion project, and I aspire to get excited about the topics I'm writing about as I am. It's not just about sharing the research and the how-tos, the "best ways to do this" or the "7 steps to do that" – it's also about wrapping our minds about a very different and non-conventional lifestyle, finding peace in an oceans of chores and to-dos, and above all finding meaning and happiness in a simple lifestyle.
Work with me
If you'd like to partner with me in any way, please reach out to hello@sunnysimpleliving.com. I only write or talk about topics that fit a simple, sustainable and positive lifestyle. 
Raising Animals
Chickens, goats, alpacas, and other critters: animal husbandry for the small-scale farm or homestead
Gardening & Growing
Adventures in gardening for self-sufficiency: growing your own food and processing your harvest
Off-Grid & Self-Sufficient
Building and maintaining an off-grid home – and setting up your property for increased self-reliance
Simple Lifestyle
Living a simple lifestyle: raising kids, back-to-basic skills, off-grid mindset and money matters
Grab your free guide to taking the leap