People associate Spain with sunny beaches, sangria and tapas. Which is what a holiday at the coast is probably about – but here in Matarranya (Teruel, Aragon), we get actual seasons. And sometimes, we get weird weather phenomena as well.
You'll find the story below – scroll down if you just want the pictures!
Storm Gloria – January 2020
2020 was the first time we were confronted with a natural disaster here in Aragon – Gloria made a dozen human casualties, and was absolutely disastrous for both animals and people. Whole villages without electricity or phone coverage for days; animals getting taken by the slush as rivers rised exponentially in a matter of hours; barn roofs caving in, killing thousands of animals (can you just imagine the roof of an industrial chicken installation giving in?), and of course "regular" roofs crumbling and people becoming homeless overnight.
If you're in Minnesota, Canada or Russia you might wonder how it's even possible – Spanish structures are just not built for big amounts of snow (and with Gloria, it came with record rain right after).
The best thing we got out of storm Gloria was our cat. Days after the storm subsided, a tiny skinny young cat started living in the alpaca stable, then moved on to the small chicken coop and started hunting mice there. The chickens weren't quite sure about him but as he was tiny, they didn't react too strongly.
It wasn't long before we started feeding him – and before he grew into the big cuddly tomcat called Tom 🙂
Preparing for Filomena – January 2021
Local Authorities Making a Real Effort
With "Filomena", the storm being announced for January 2021, Spanish authorities made sure we were ready. I can't speak for national efforts, but around here the frenzy could almost be compared with the first day of Corona lockdown…
Shops in the village were emptying fast – everyone stocking up
Conversations in the days before were all about the oncoming storm
The app that sends out official announcements, eBando, kept sending – well, announcements. How busses wouldn't drive tomorrow. And we should stay inside. And roads wouldn't be accessible tomorrow. Make sure we had enough food. Get in touch with friends living off-grid, making sure they were safe throughout the storm.
Some off-grid friends of our even got a visit from the Guardia Civil in the days leading up to Filomena – checking if they'd got enough food and fuel, if the animals would be safe, etc.
This time, authorities wouldn't be caught by surprise.
How We Prepared for Filomena
Last year with Gloria, our #1 issue was wood for the fire: we had enough of it, but a lot became drenched by the snow. So we ended up spending a couple of days huddled in my office with a little gas heater. Not as bad as it sounds – it was pretty cosy and warm! But still, we weren't going to get caught unaware this time.
So ahead of time we
Stocked up on wood – and made sure big part of it was safe from rain or snow
Stocked up on gas bottles – just in case. Our backup heating works on gas.
Stocked up on food! For ourselves and for the animals. We even got some dry kibble (our dogs usually eat raw), just in case we're stuck for more than 5 days.
Made sure the generator was working and had enough fuel as well
Made sure everything we'd need was within reach. Last year, we left the spades out in the garden – and had to go dig for them before we could start digging out the chickens 🙂
Left alpaca food next to the alpaca stable – so we wouldn't have to plough through the snow with buckets 🙂
And Then It Started to Snow…
On Thursday, January 7th, it snowed a bit. We got some pretty pictures out of it but it wasn't much… as expected. We even got to Valderrobres in the afternoon for a quick extra shop (forgot beer and chocolate the first time! Essentials!).
Then It Snowed Some More on Saturday & Sunday
For comparison:
The Dog & Cat are Loving It
Jabba (the big dog) and Tom (the cat) seem to love the snow. Tom spends just as much time outside as other days – and Jabba enjoys going on adventures, with or without us.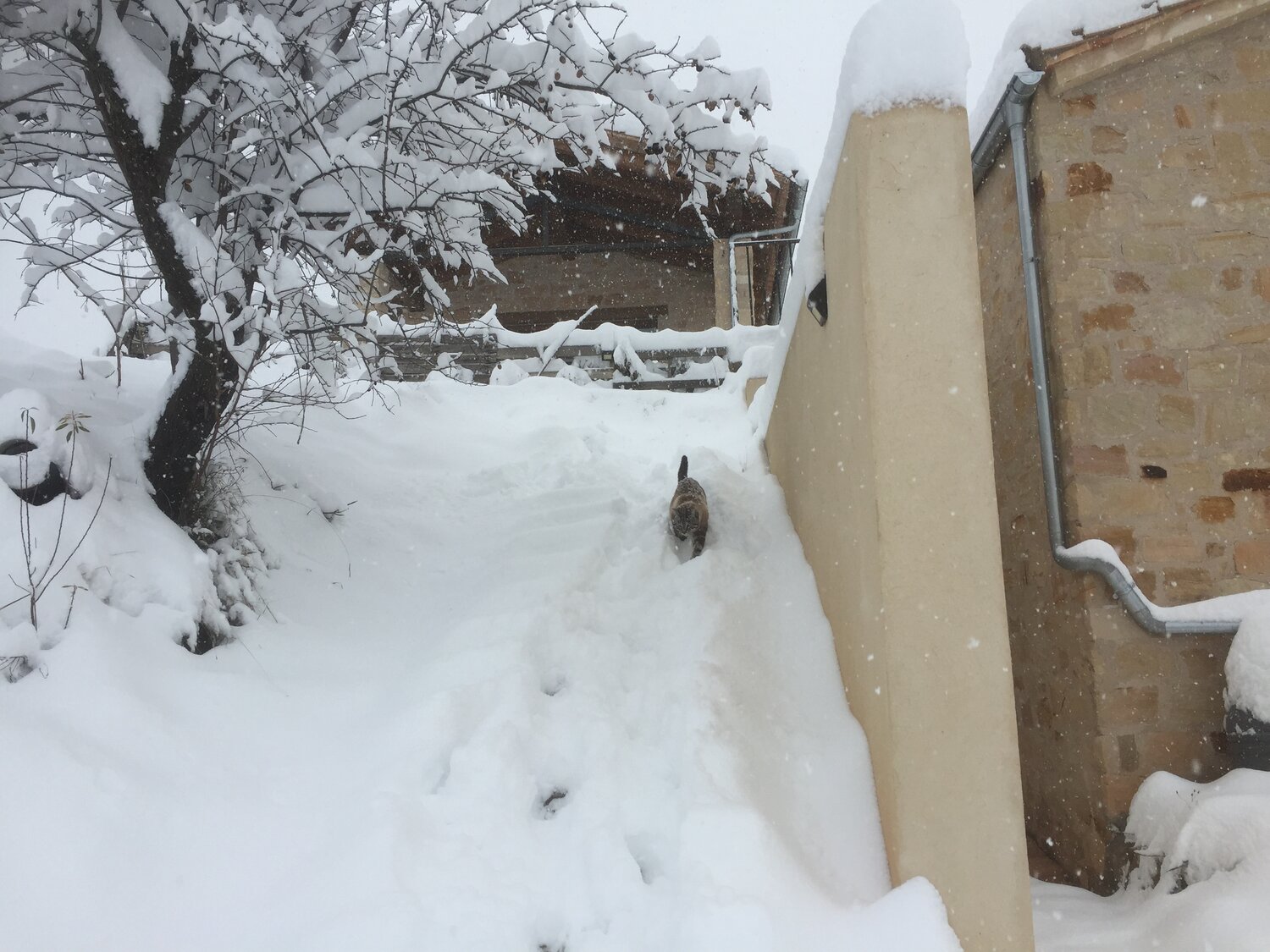 Jinx (the small dog) doesn't stand a chance; she went on a journey on Saturday morning but after that, the snow just got too high for her to get through.
On Sunday, I dug a trench in the snow so the animals would be able to get from one sheltered place to another…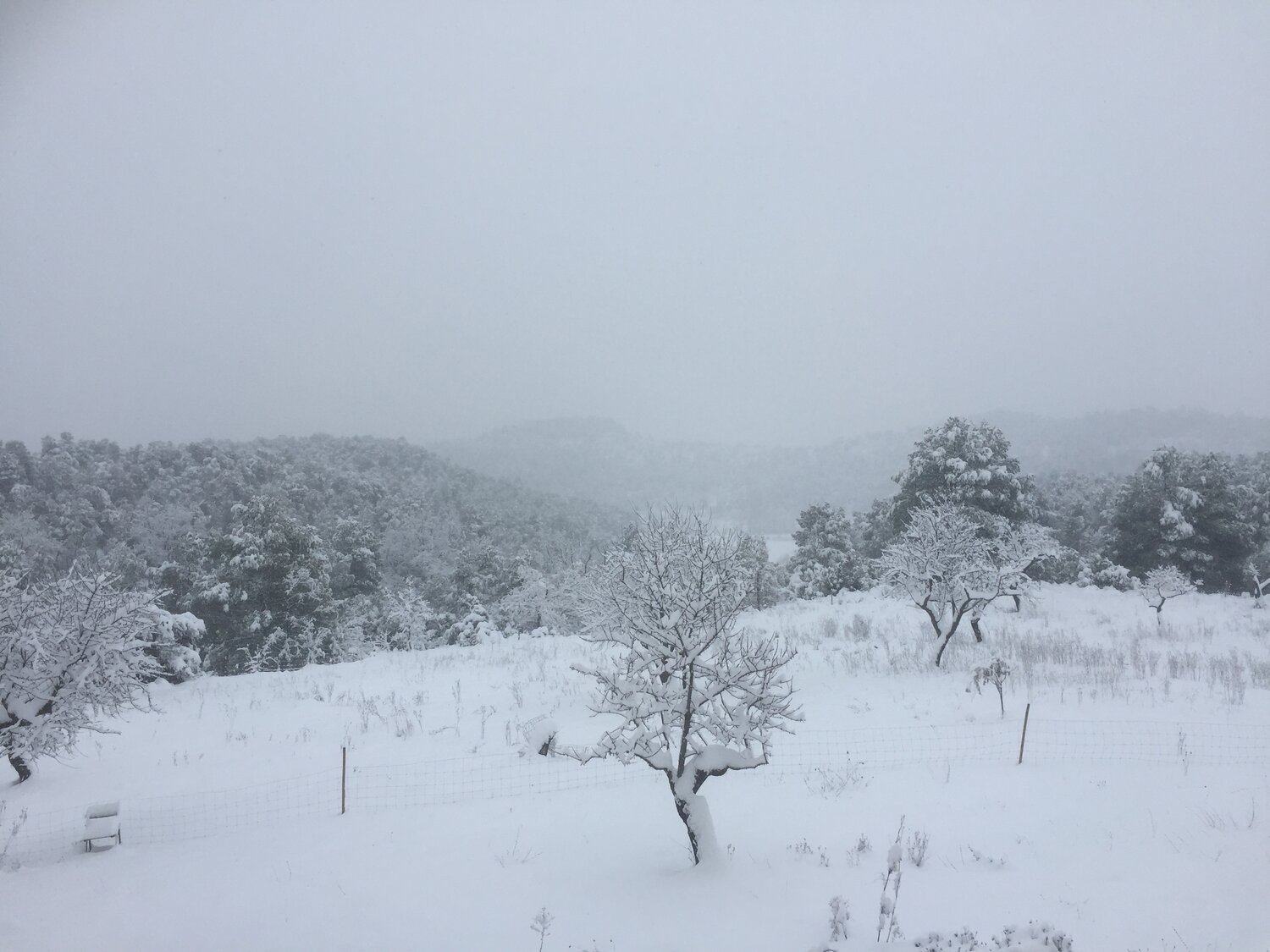 The Alpacas are Made for This
Not sure they're made for these specific circumstances – but alpacas do great in cold temperatures. They don't love the snow, but at least their stable is dry inside (better than when it rains!) and then seem to enjoy spending time under an olive tree.
The Chickens are Staying Safe and Warm…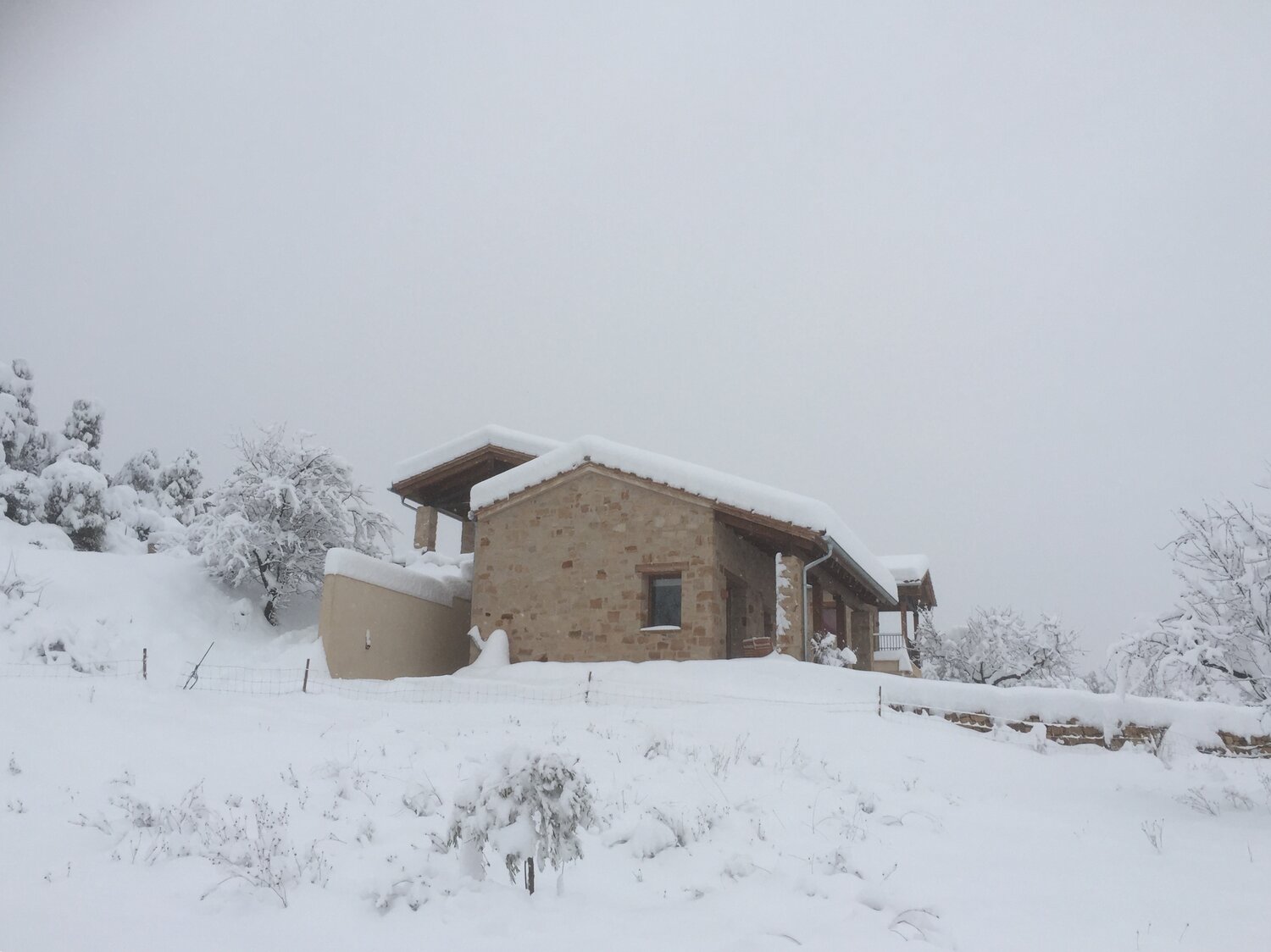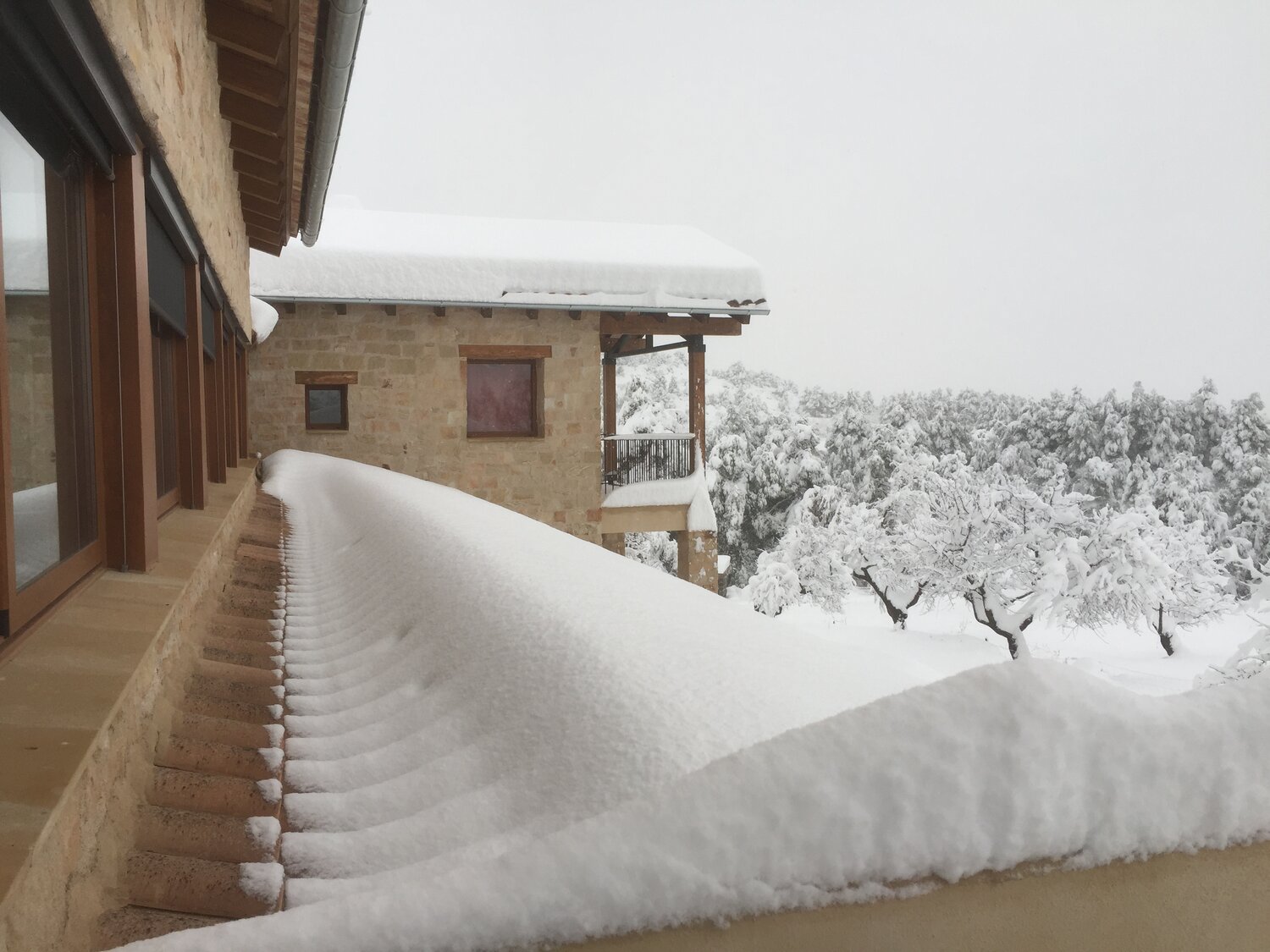 Update: The Sun Came Out on Monday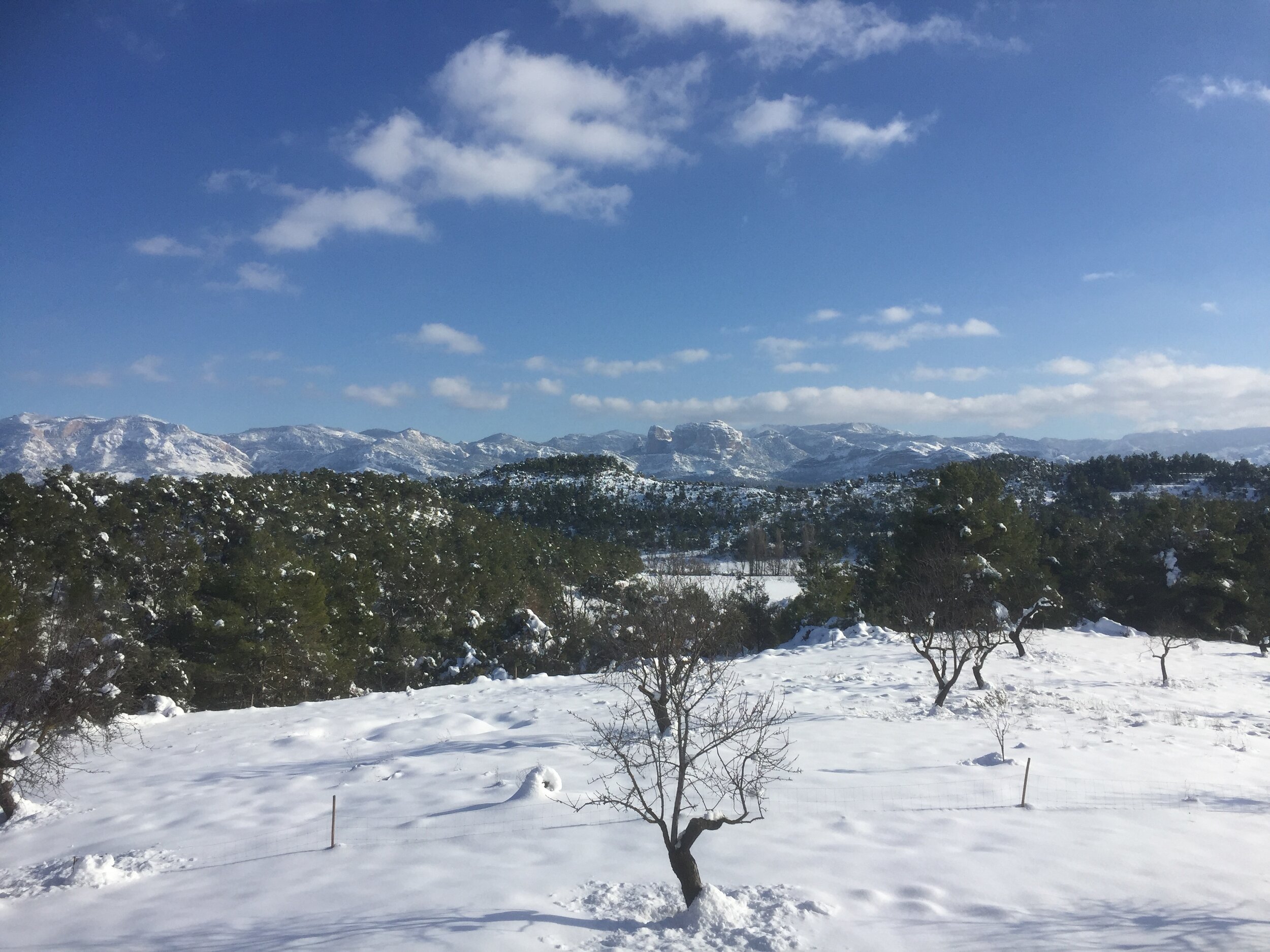 And Another Update
After a few more days of wind, cold and no sun – our big round yellow friend finally came out today. That meant finally putting on the dishwasher and a load of laundry – and really hoping it'll be out again tomorrow (or Saturday, Axel's birthday).
We've now been "stuck" for a week – although technically, we can get out on foot.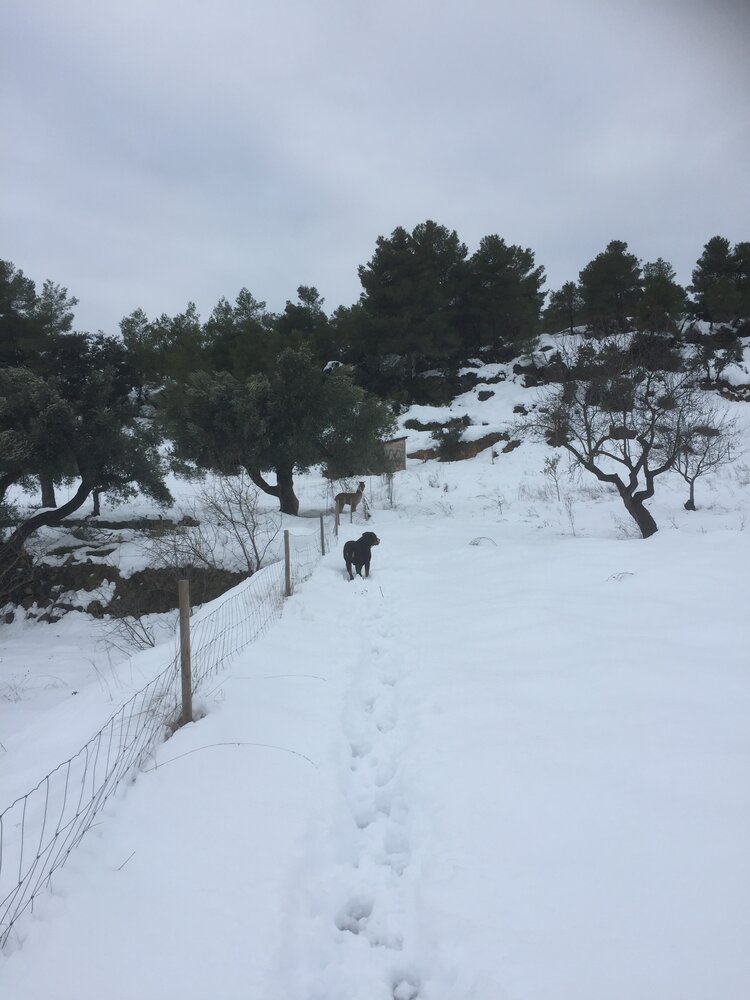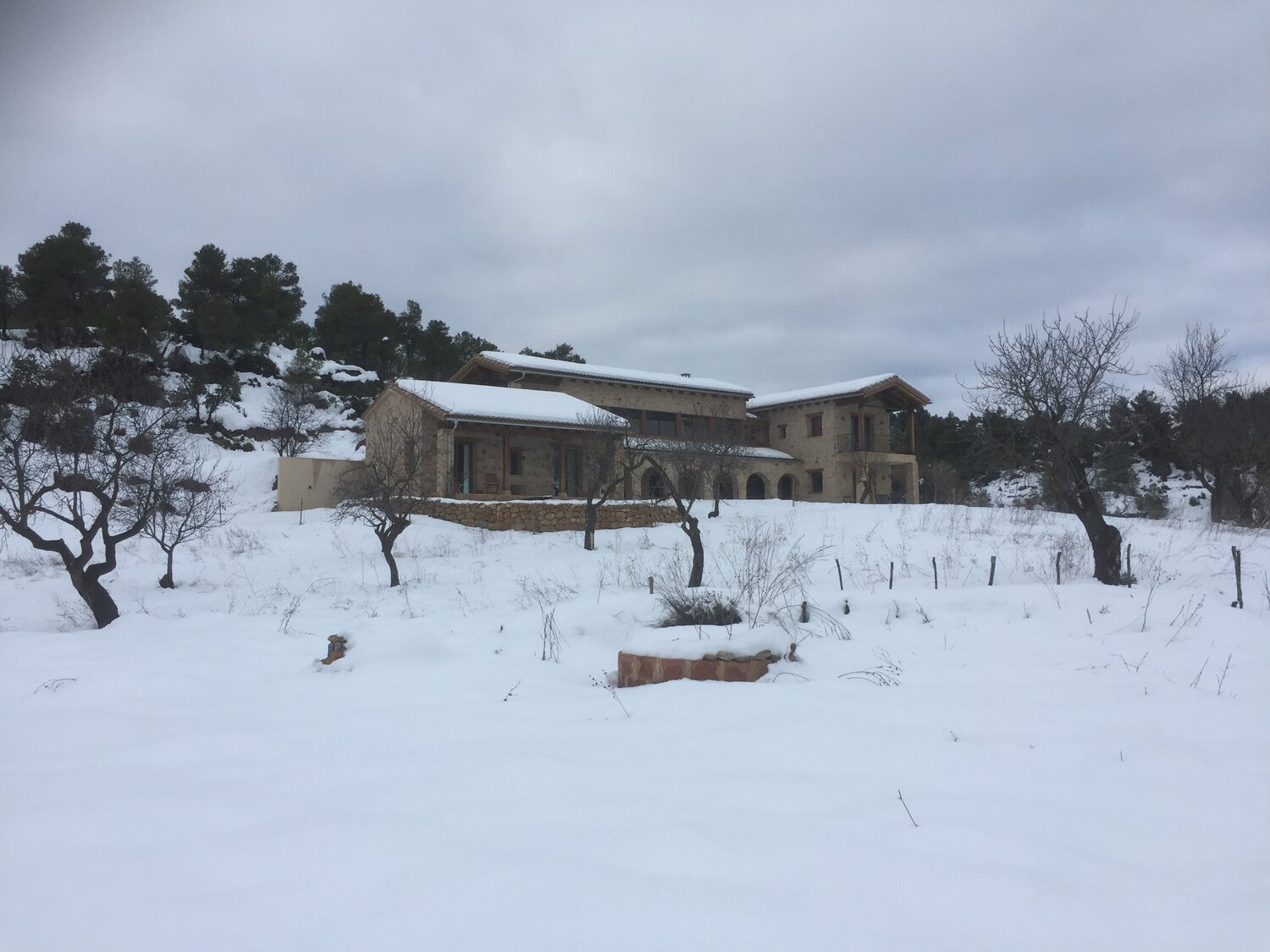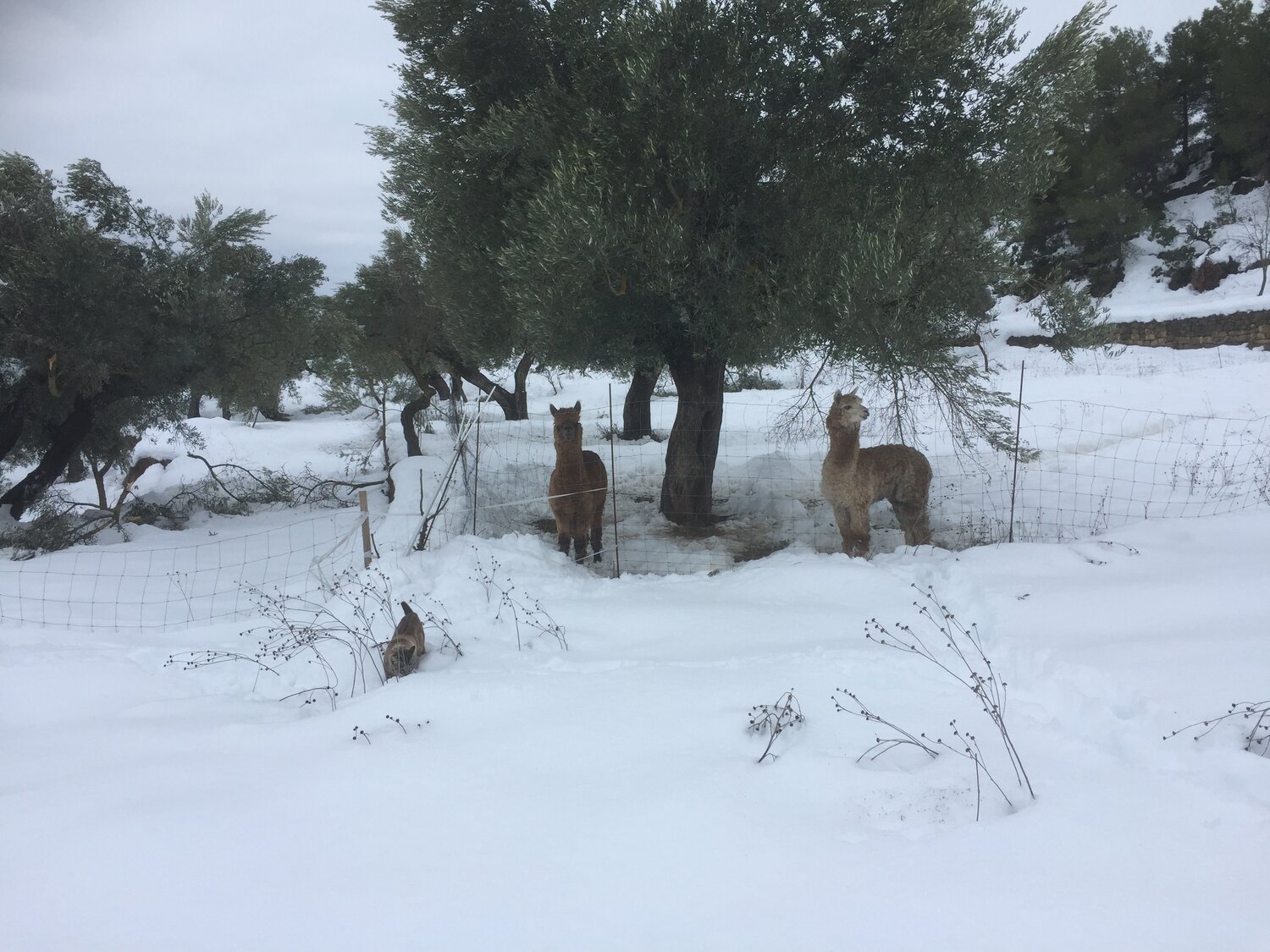 I temporarily moved my office to the living room, and loving the view from my desk!
The best place to hang out these days though?
With Jabba and Tom in front of the fire.