If you've got chickens, you know you'll start getting less and fewer eggs in Autumn.
It starts with days getting shorter… then you'll see one or two chickens go into moulting… and before you know it, it's mid-winter and you open that chicken coop door every day to the sight of no fresh eggs whatsoever.
Well… not this winter.
We now officially have 10 laying hens, and we need all of them (and possibly more) in summer: guests staying with us and eating multiple eggs every day, friends dropping by for a weekly top-up of their egg boxes, and I also love baking when the sun's out.
In winter, it's mostly just the two of us; hardly any guests, friends don't seem to need as many eggs (or they're somewhere else for the winter), and there's a lot less baking going on.
This winter is also an extraordinarily light & warm one. Hoping not to jinx it by saying this – but we've maybe had 2-3 days of fog since the beginning of December; most days are just bright & sunny & happy days.
Same for the chickens; hardly any moulting, everyone seems happy & healthy (even though we're not currently keeping them on rotating pastures – just safely in the fixed chicken run) – and most of them are laying their daily egg.
Needless to say, 8-10 eggs a day is just too much for the two of us.
And did I mention it's just the two of us right now? No way we're going to eat all of those.
So I reached out to my followers on Facebook and Instagram + asked a few fellow bloggers for ideas…
And boy, was I in for a treat.
This is just a small overview of yummy things to make & bake that will help you go through a load of eggs in no time!
Savoury Egg-Based Recipes
Menemen: Turkish one-pan eggs & peppers. For brunch, lunch or supper. Thank you Phil for sharing!
Shakshuka: eggs poached in stew of tomatoes & green peppers. Eggcellent in summer, when you've got too many eggs AND a boatload of tomatoes to process!
Scotch eggs. Love it when Jamie Oliver calls them "proper" 😉
Home made pasta
Pasta Carbonara – pasta with raw eggs (that'll cook a bit as you add them to the hot pasta) – this one's with mushrooms too
Quiche. I've got a friend who always keeps a stock of pre-baked quiche "pies" around; any time she's got leftovers, she'll just make them into a quiche. I thought that was genius. Plus my other friend Jenn says quiches freeze well.
Pickled eggs. Not something I'd do (I'm not a fan of pickled anything)… but if people say it's a good idea, then it belongs in this list 🙂
Tortilla – or Spanish Omelette. The best thing about this – we'll eat it hot for lunch, then let it go cold and grab a piece from the fridge as a snack or tapa.
Pancakes – more specifically: Dutch "boerenpannenkoeken" or "farmer's pancakes". Traditionally made with bacon and seasonal veggies – this one's vegetarian though. Too bad I couldn't find a recipe in English; I will write it myself (or have the Dutch man-of-the-house do that) one day!
Ramps & garlic mustard frittata from Susan at Learning & Yearning. Heaven for foragers!
Lebanese eggs with pine nuts – planning on trying this one with almonds instead
Apple-bacon savoury bread pudding? It would never have occurred to me!
Salt-cured egg yolks. For when you made so much meringue (see below) you don't know what to do with the rest.
Sandrine's scrambled eggs recipe. Just a note to self to post that recipe on this blog sometime soon as well, they're popular with our guests!
Sweet Egg-Based Recipes
And to drink…
Advocaat or Eggnog. Not technically the same (reader Liesbeth pointed out that Advocaat is made with Belgian/Dutch spirits, while eggnog would be made with brandy or rum)…
Know any other recipes I could add to this list? Tell us in the comments & I'll add them later on!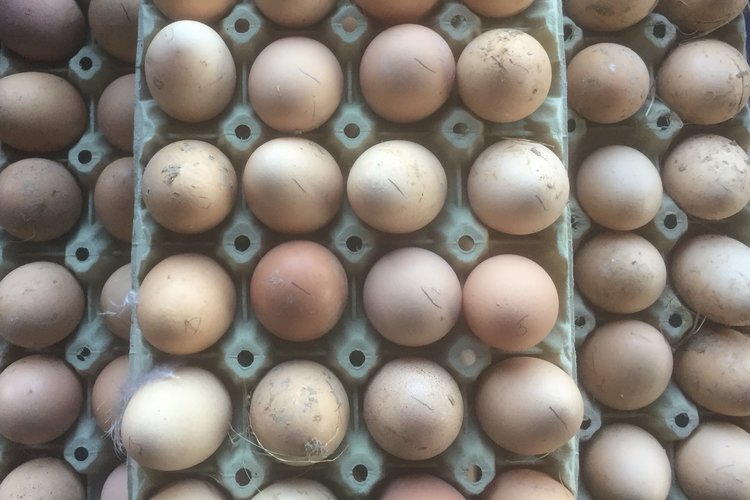 So many eggs, fresh from the coop. The perks of having laying hens right next to the kitchen door!